Meesho is a marketplace that covers almost every product category, from clothes and accessories to electronics and foods. There are about 700+ product categories to choose from in Meesho. Although with this huge range of items, Meesho sellers must follow a strict rule on what kind of product to sell. It does not matter if one is selling branded items or unbranded handmade objects. However, sellers can not sell any illegal items such as drugs or arms and ammunition that can pose any danger to humans.
Therefore, yes you can sell unbranded clothes, accessories, or office supplies on Meesho if they are not counterfeit or fake products.
FAQs

How can I register as Meesho Seller?
Registering on Meesho is as simple as buying an item online. The very first thing you need to do is download the application and log in with your mobile number. Go to 'Account' and scroll down to select 'Become a Supplier'. Add your Shop name, GSTIN, and bank account details to start selling as a Meesho supplier. To know more, follow this guide on how to sell on Meesho.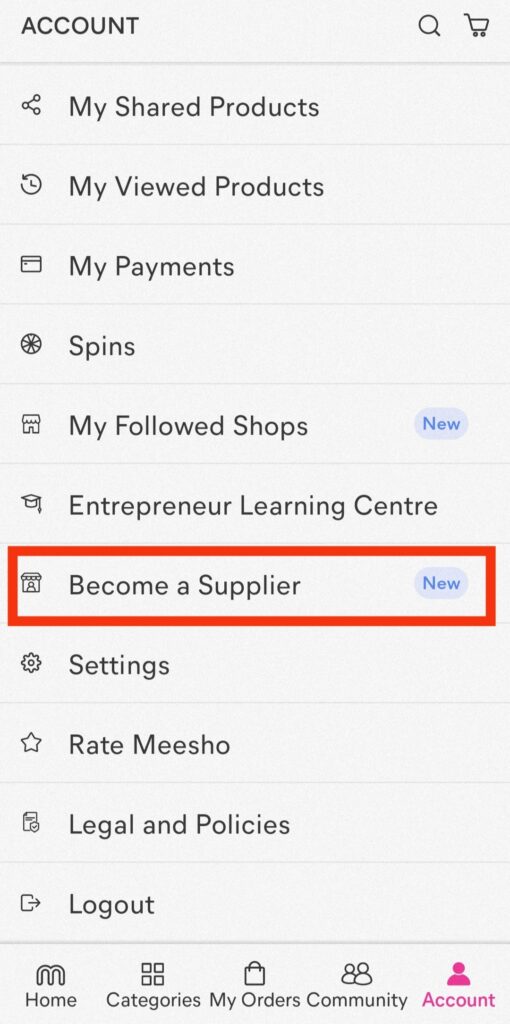 Where can I find Meesho community?
Meesho is designed in a very simple way so that anyone can use the app without trouble. Once you open the application you can find the Meesho community tab between the 'My Orders' tab and the 'Account' tab at the bottom.
How to click professional photos for Meesho product catalogs?
Create professional product photos with Blend. High-converting product photos are critical in e-commerce businesses. Use Blend to automatically remove your product photo's background and showcase your products with a white background as a necessary rule for Meesho product photos.
How can I market my Meesho products?
Marketing Meesho products is way easier than other e-commerce platforms. Meesho is specially created to share and market Meesho catalogs on different social media platforms such as WhatsApp Business, Facebook, and Instagram. Meesho also allows users to market their items with Meesho Ads which is entirely controlled by the user itself. To learn more about Meesho Ads read this article on how to market Meesho products.