Meesho is one of the leading e-commerce platforms in India nowadays with over 100M active users. Not only for buyers, but Meesho is also popular among sellers as well, especially for home-based women proprietors. With its zero-commission fee, anyone can easily start their own small business in the comfort of their home.
To start their shops, sellers need to follow simple steps to register in Meesho and go live.
1. Signing Up
Download the application and register with your phone number, email Id, and Shop name to create your account.
Visit "Account" and click on "Become a Supplier" to start selling.
Fill in the form with your shop's GSTIN number and active bank account details.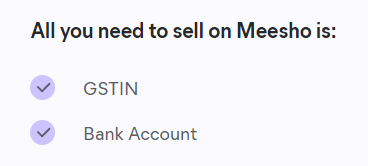 2. Upload Product Catalogs
Upon completing the registration with all the necessary details, you will be taken to the Meesho Supplier Panel from where you can control your store.
With the help of the Meesho Supplier Panel, you can upload your product listings and manage your inventory with ease. You can also process the orders and track payments here.

Review the legal and policies section in the Supplier Panel to ensure your uploaded catalogs are in compliance with the policies of Meesho. Then start by selecting the category and uploading at least 5-7 catalogs on the first day to get exposure to your potential buyers. Select appropriate product images and fill in each product's price and GST details in the catalog. The product catalog goes live within 72 hours from the time of upload.
Meesho is the most affordable and low-price shopping brand in India therefore, use the Price Recommendation Tool provided by Meesho to arrive at a competitive price that may attract more buyers to your store.
Meesho also provides a Next Day Dispatch (NDD) Program where you can get extra visibility on the listed catalogs to increase sales. Sign in and add the qualifying catalogs.
3. Ship Orders
Do not worry about leaving your house and carrying all the orders to a courier service office to dispatch them. Meesho provides logistics partners to pick up the orders from your home. All you have to do is add a pickup address while registering.
You will be notified via email when you receive an order. Download the labels and get the printouts to stick on the packages. Pack the product properly to make sure it does not get damaged during the delivery process. Then wait for the courier service to pick it up from your workplace.
4. Payments
Meesho charges a 0% commission rate from suppliers across all product categories. And it also does not charge any penalty on order cancellations or similar cases.

But in case the customer returns the product, the seller is charged a return shipping fee based on the weight of the product.
It takes 7 days for Meesho to transfer the payment securely to your bank account, including Cash on Delivery orders. Go to the Meesho Supplier Panel to check your deposited balance and future payments.
——————————
Create professional product photos with Blend.

High-converting product photos are critical in e-commerce businesses. Use Blend to automatically remove your product photo's background and showcase your products with thousands of templates across all top e-commerce product categories.