When it comes to selling things online, a good lead photo is important. The catalogue photos that you upload on your page help create a link between the seller and the buyer. Buyers will only be able to connect and feel the product if it's more realistic and clear. Whether you want to sell your new artwork or you want to resell some of your things, the catalogue photos presented should be appealing enough to grab customers' attention. Online selling has become the latest trend and Meesho-a reselling app helps small businesses to grow online and earn more. It helps launch businesses seated comfortably in their homes, without investing a lot of money. However, for any business to earn a profit, a good catalogue is very important. 
Use of Catalogues
Companies have been using catalogues to promote their products for a long time now and photos play an important role in creating a good catalogue. It acts as a primary medium for companies to showcase their product range which helps potential customers see the products and decide whether they want to buy them or not.
15 tricks to capture pictures like a pro using your smartphone (blendnow.com)
Launching and uploading your business on Meesho is not a very difficult task if you have proper items ready with you which include good photos. Whichever product you're choosing, there are some important tips to follow so you can transform your shots into professional-looking catalogue photos-
Lighting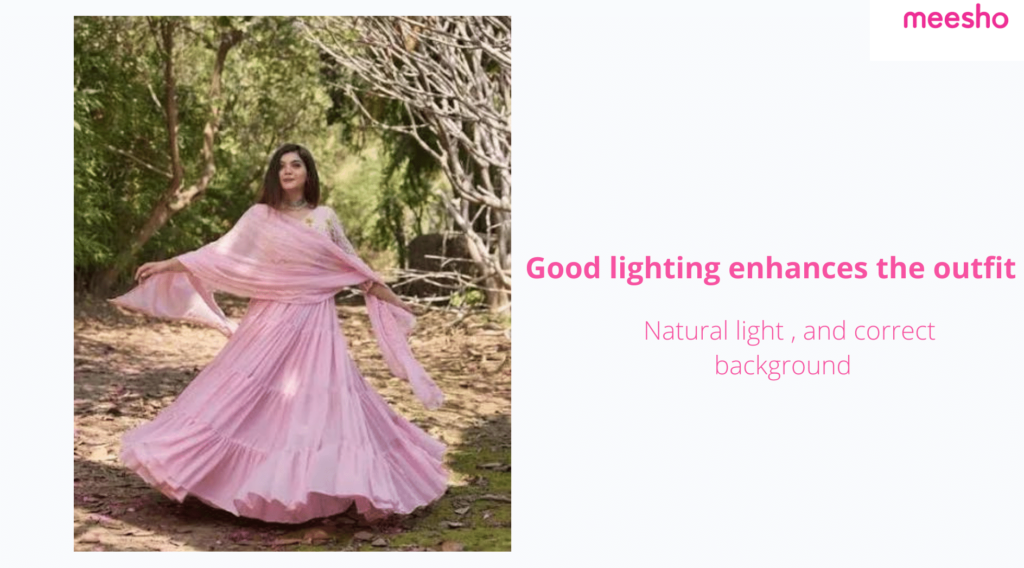 Poor lighting can make the image look dull and amateur. Determining the lighting will depend on your product such as organic things will look good in the natural light, and summer fashion will require sunny days to create the right scene. 
Background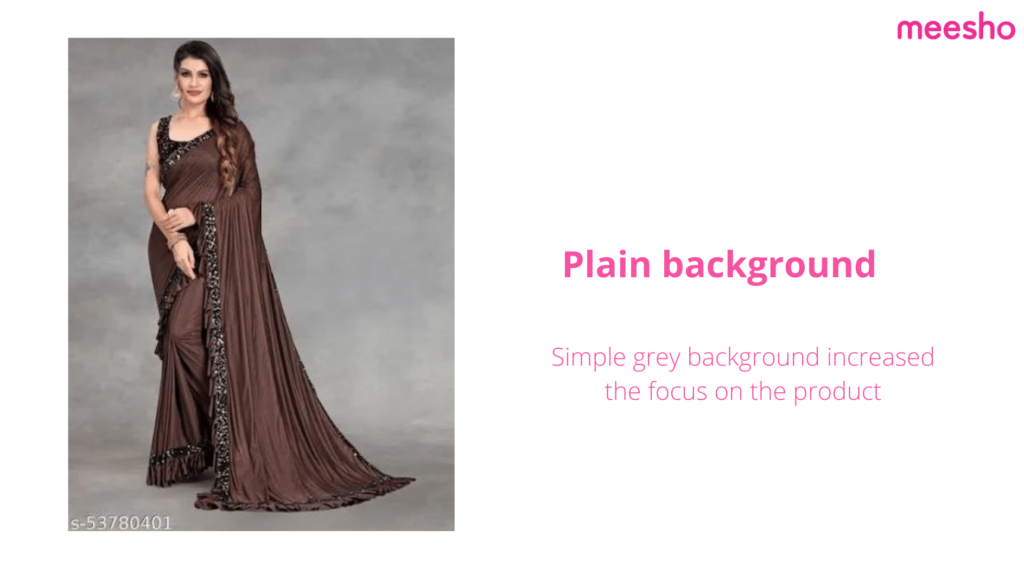 Choosing a busy background distracts the customer's attention. So, choose a product background that focuses on and enhances the product. A black or white background will improve your photo and make it stand out from the others. Also, keep in mind to use a uniform background as it helps the photos look better. You can use Blend app to create plain background photos.
Consistency
Try to make sure each product is of the same size and the photo taken is of the same style if you want your product photos to go together as a collection.  If your customers see each product as a part of a collection, it also helps with company branding and messaging.
Include all angles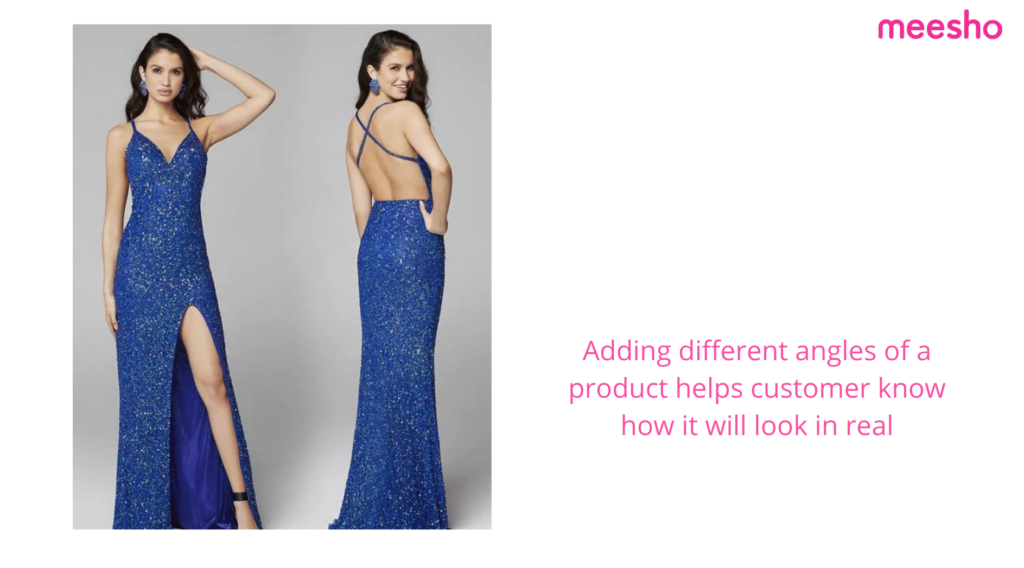 We are uploading photos for customers, so deciding things keeping in mind the customer's perspective is very important. While doing online shopping, a customer may need to look at the back side of the product and from different angles too. So try uploading photos from all angles to create the best sales.
Rechecking 
Product photos are the eyes and hands of your customers so review the pictures again once they're uploaded to ensure that they're not blurry or off-centre, but just how you want your customers to see them. Once you've uploaded the pictures, give them a second look in your catalogue. This may sound simple, but taking this extra look can help you catch anything you didn't see the first time around.
Business catalogue feature: Meesho
The 'Catalogue' feature has been added recently to help business owners showcase their product catalogues efficiently. The catalogues you save online become a part of your business profile. Your customers can go through these whenever they want and it is convenient for them.
How to add Meesho catalogues?
You can add images either from your phone gallery or by clicking a picture with the phone camera. So, you must download preferred catalogues from Meesho and copy the description text. Now, add images in the 'Catalogue' section by selecting them from your gallery.
Editing an image using Meesho
Our top resellers prefer editing catalogue images for better engagements. They create exciting combos and collages with images downloaded from the Meesho catalogues and reviews.
Creating Combos:
Make use of creating combos with different images to give a better look. Sending a single picture consisting of the best images to your customers is effective also as customers will have to download only one image.
Editing real images from the Review section:
Our top resellers prefer sharing top-rated catalogues with their customers so that they can download real images from the Review section and edit those as per their preference.
Use Blend App for product photography
Adding photos to your online catalogue is time-consuming as you have to find a nice camera, take the pictures, transfer them to a computer, and upload them, It's not like you can use your mobile device to just edit and upload a picture – or can you?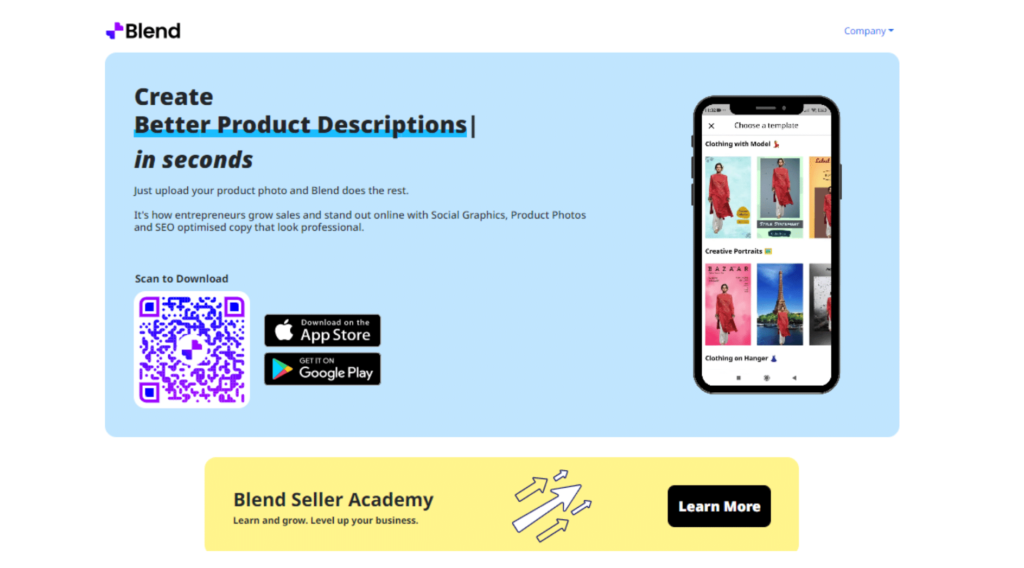 Yes, you can, with the help of the Blend app. Blend is an app that helps e-commerce sellers remove backgrounds from product photos and create high-quality catalogue photos and social media posts.
You can easily edit product photos like a pro with this app as it automatically removes backgrounds, and adds text on photos, stickers and backgrounds. It can also help you create stunning product photos by editing, cropping, and resizing according to your needs. 
Blend app helps you create and edit catalogues very easily and helps create better product descriptions with just one click.  It helps entrepreneurs grow sales and stand out online as it has over 500+ templates and various backdrops that you can use for your catalogue.