One of the fastest-growing e-commerce marketplaces in India, Meesho has an easy interface for users to navigate through. The user-friendly application helps users find all the necessary segments in one place.
Online shopping means online transactions, be it a buyer or a seller having a bank account and linking it with the marketplace is very important. Especially for merchants, all the profits from the sales are transferred to them through internet banking. So, let's learn how to add bank account details in Meesho to have hassle-free transactions after every sale or purchase.
Step 1
Upon downloading the Meesho application, sign up with your name and mobile number to register for the application. You can also add your profile image and email ID to get notifications for special deals and offers.
Step 2
You can find different tabs on the bottom of the homepage and at the right after 'Help' is the 'Account' tab. Click and scroll down to find 'My Bank & UPI Details'.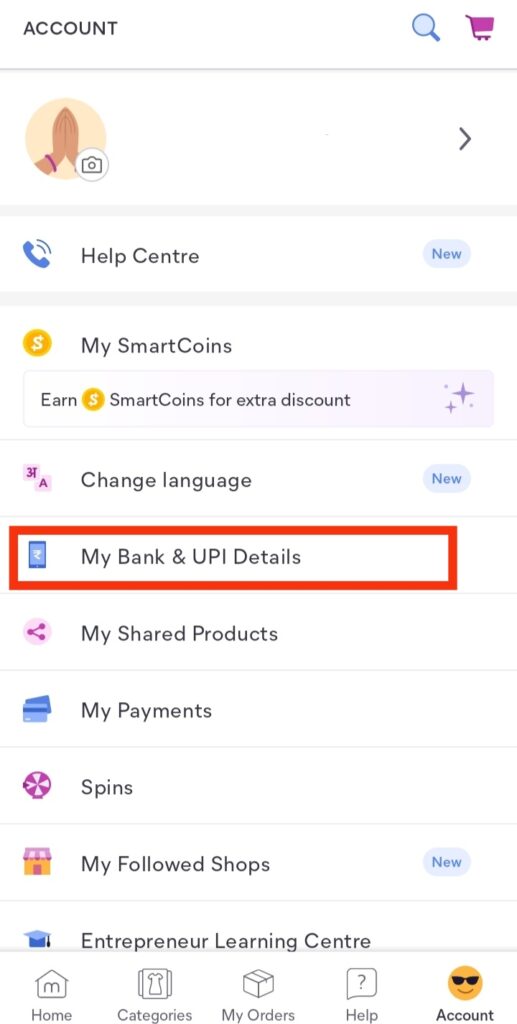 Step 3
There are two options in the 'My Bank & UPI Details' tab, the first one is 'Bank Details', and the other one is 'UPI Details'.  You can choose any one of them, whichever you find easier for your transactions. But as a seller, adding bank details is much more helpful for smooth workflow.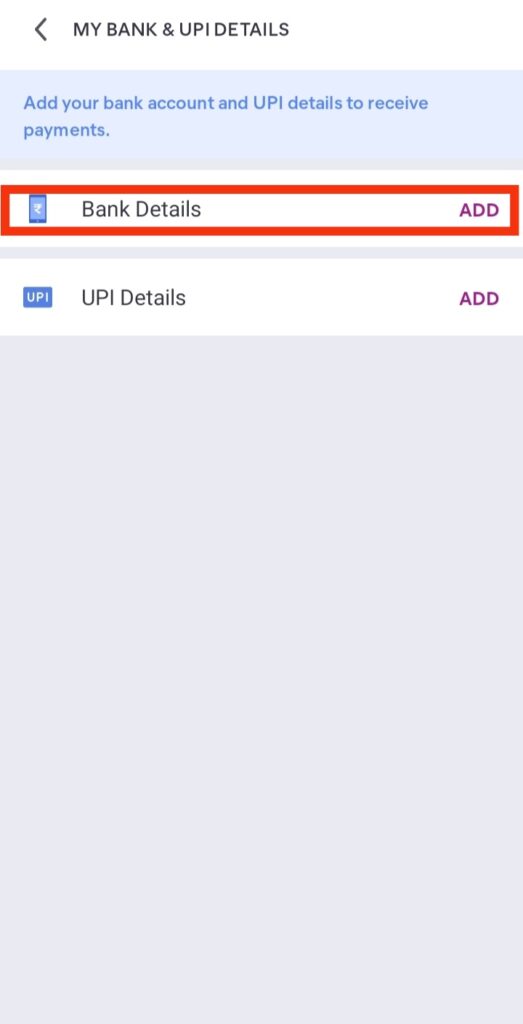 Step 4
Fill in information such as IFSC Code, Account Number, Confirm Account Number, and Account Holder's Name. Lastly, tick the small box beside ' By continuing, you agree with the handling of your data as per our Privacy Policy' as shown in the image below.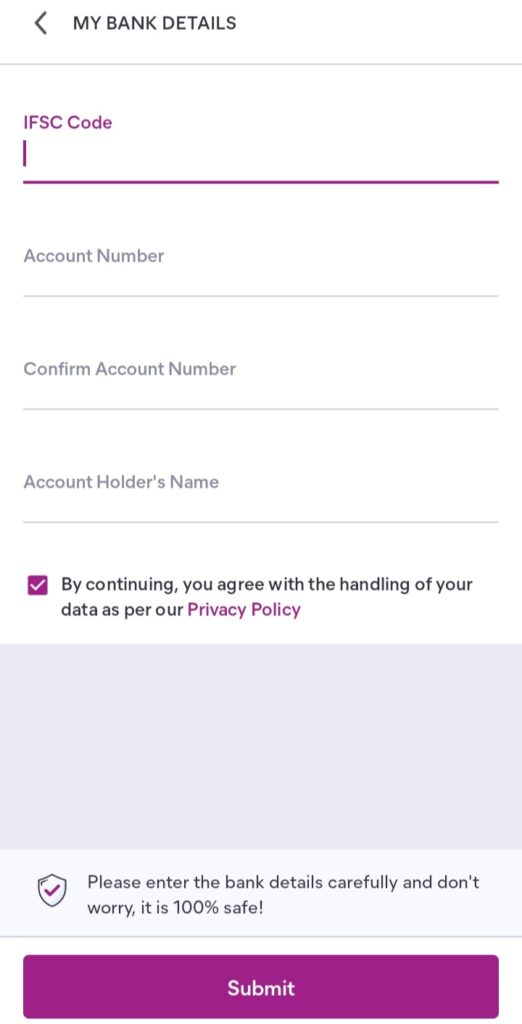 Step 5
Click submit at the bottom of the page to finish.
Meesho users can also add UPI Details for easier transactions in the same 'My Bank & UPI Details' tab. The 'UPI Details' is just under 'Bank Details'.
Step 1
Click Add beside 'UPI Details' to enter your UPI details for faster transactions.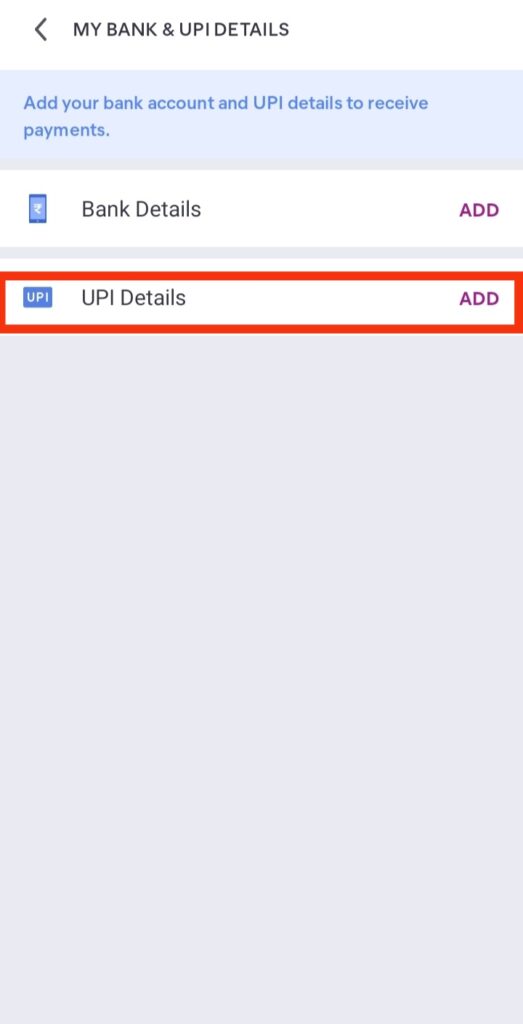 Step 2
Copy your UPI ID from Google Pay, Phone Pe, or PayTM and paste it under the UPI ID in Meesho.
Step 3
Again, tick the small box beside 'By continuing, you agree with the handling of your data as per our Privacy Policy' to finish.
Step 4
Click submit to add your UPI Details.
Once added, you can only change your bank details if you have any pending transactions, by following the same steps.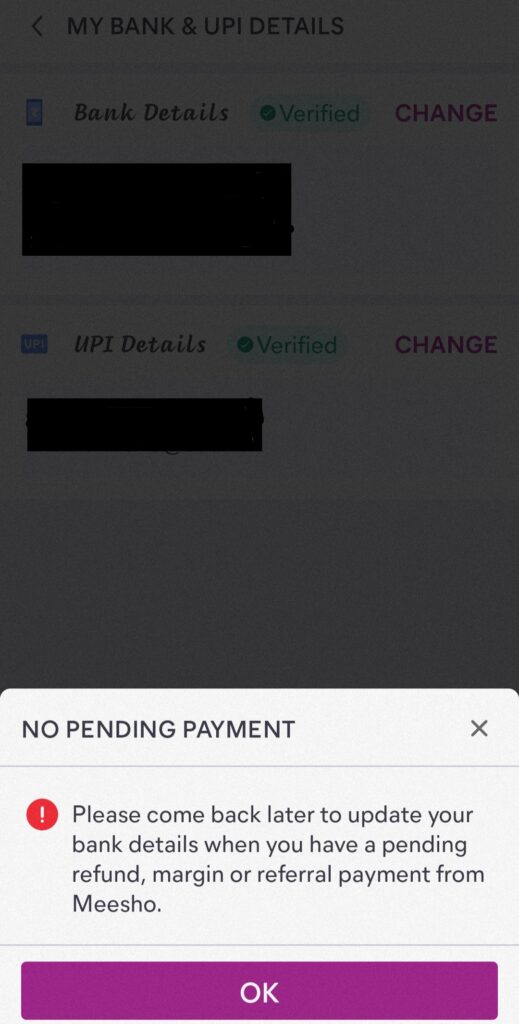 FAQs
How can I register as Meesho Seller?
Registering on Meesho is as simple as buying an item online. The very first thing you need to do is download the application and log in with your mobile number. Go to 'Account' and scroll down to select 'Become a Supplier'. Add your Shop name, GSTIN, and bank account details to start selling as a Meesho supplier. To know more, follow this guide on how to sell on Meesho.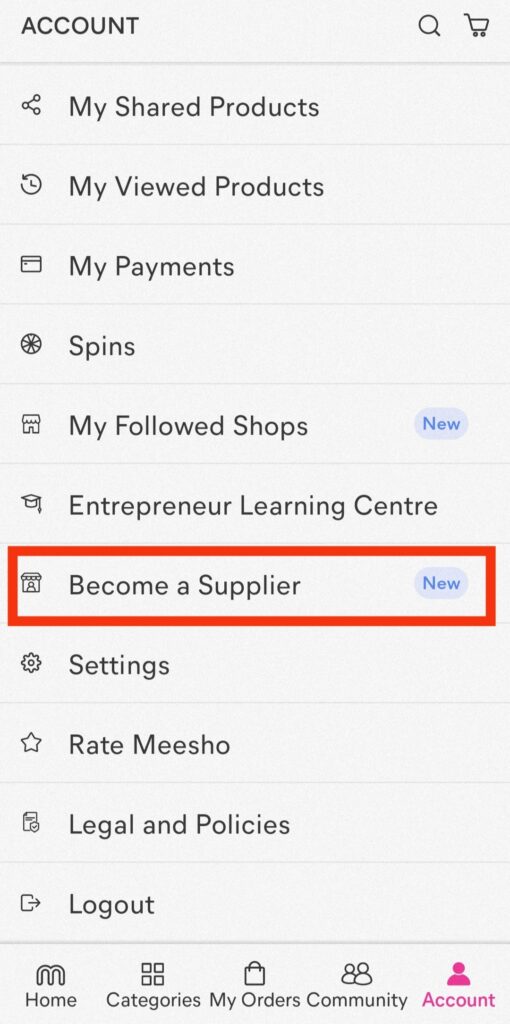 Where can I find the Meesho community?
Meesho is designed in a very simple way so that anyone can use the app without trouble. Once you open the application you can find the Meesho community tab between the 'My Orders' tab and the 'Account' tab at the bottom.
How can I start posting on the Meesho community?
At the bottom of the Community tab, right above the 'My Orders tab, there is a white plus sign in a pink circle. Click that button to start creating your own posts on Meesho Community.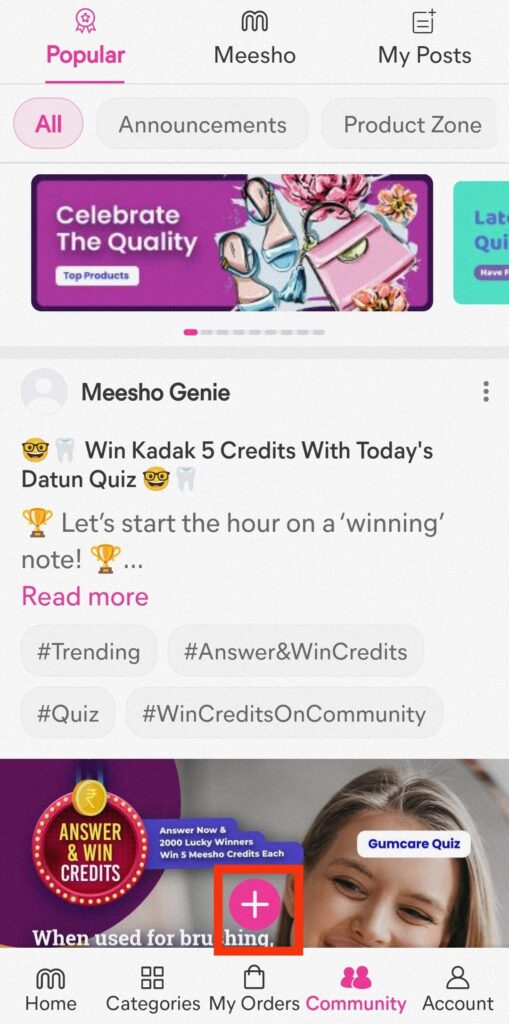 How to click professional photos for Meesho product catalogs?
Create professional product photos with Blend. High-converting product photos are critical in e-commerce businesses. Use Blend to automatically remove your product photo's background and showcase your products with a white background as a necessary rule for Meesho product photos.
How can I market my Meesho products?
Marketing Meesho products is way easier than other e-commerce platforms. Meesho is specially created to share and market Meesho catalogs on different social media platforms such as WhatsApp Business, Facebook, and Instagram. Meesho also allows users to market their items with Meesho Ads which is entirely controlled by the user itself. To learn more about Meesho Ads read this article on how to market Meesho products.