Are you thinking of leveraging online selling and business promotion? But website setup and management seem tedious and cost-intensive? Well then luckily, you can just use a free platform where you can display your products and sell them. And Instagram happens to be perfect for that. Not only can you reach a wide network of potential customers directly, but you also get the right features to manage, promote and grow your business without an official website. Let's find out how, in this article.
Why Instagram?
Great visual platform – Instagram provides a perfect visual platform to display great quality pictures of products. Customers want to see a product clearly from all angles before they decide to buy. Instagram lets you add quality images, thereby improving the sales experience.
Large audience – Instagram has a monthly audience of 1 billion users. Imagine all these people seeing their Instagram stories every day; that's a lot of audiences to display your product. According to a study by getsitecontrol.com, 200 million Instagram users visit at least one business profile daily. As you can see, you can get a great range of customers by using Instagram as your advertising platform. 
Great engagement rate – A significant percentage of people use Instagram as a platform to research services and products. According to recent research by Hootsuite, Instagram is leading the social media race for the highest user engagement rate.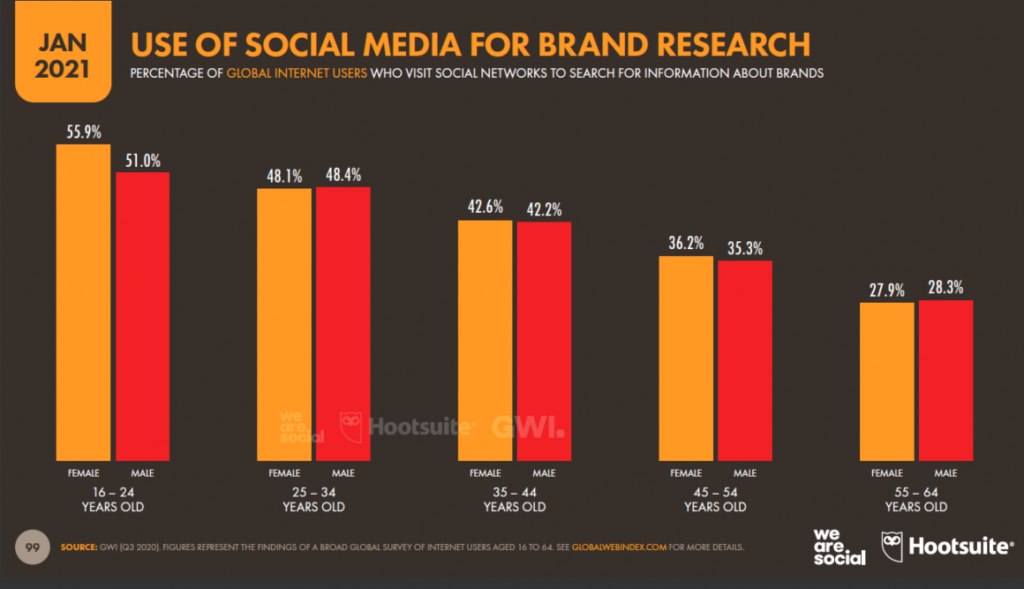 How to set up your Instagram account for better sales?
Create a business account – There are two types of accounts on Instagram: personal and business. You should always select the business account option as it opens many possibilities for you. It allows you to add an email and phone number in your bio, create posts where people can shop, use paid ads to promote your products, and access data insights.
Write your bio – You must make your profile attractive to your customers. You can do this by writing an exciting bio using emojis. Moreover, your bio should be easy to understand and should be able to communicate the main essence of your brand. You should keep your bio to the point as the number of characters is limited.
Post on your feed – You need to get creative with your Instagram posts if you want your products to stand out. You can showcase your products by using them in various ways. You can display products by showing people doing fun activities or wearing your products. You can also show behind-the-scenes footage of how your products get made to engage your customers.
Simple payment method – If you have a lengthy and complicated payment method, it can put your customers off. So make sure that you add a very simplified way of payment. You can also add an online order form to your Instagram bio.
How to sell on Instagram without using a website?
Selling through DMs (Direct Messages) – One of the best ways to sell your products without a website is selling via direct messages. When customers see your products on your feed, you can ask them to contact you via DMs. Selling through DMs is not simple, but it is the best option for small businesses and start-ups. After your customers DM you and order your products, you can either ask them to pay via cash or through other online payment methods, as per their convenience.
Selling via comments – Some apps and websites allow you to automate selling through comments on Instagram. When a customer comments on your post, it triggers the app to generate an order and automatically directs them to check out and pay using various online methods. 
Selling through hashtags – You can also sell your products using hashtags related to your product. For this, you need to create an account on the online marketplaces that offer this feature. Once you create an account, your customers can click the hashtags in your posts and bio, which will lead them to the marketplace where your products can be purchased.
Selling via shopping tags – Shopping tags in another way to give your customers more information about your products by clicking on the product tag in your Instagram post. It is a very convenient option to sell on Instagram. It allows you to provide complete product information on Instagram itself. Up to five products can be tagged in a post. Moreover, the tagged products are also showcased in the shop tab of your profile. You can also tag your products in stories.
Engaging product photos are crucial
Being a photo/video sharing app, user engagement on Instagram relies heavily on the visual quality and appeal of the posts. It essentially means that your product photos and promotional posts can be a make-or-break for your online business.
To ensure a high conversion rate through great quality posts, you can use Blend, a photo editor app for e-commerce sellers. Using Blend, you can remove your product photo's background, change the background and use hundreds of customizable templates for Instagram. 
You can download the app from Google Play Store or Apple's App Store.
You should be all set now, good luck with online selling on Instagram!