India's popular e-commerce platform Meesho is specially designed to work with social media. With the motto of reselling items and advertising through social media, Meesho has helped millions of small business owners by providing the perfect platform to start their zero-investment business. Unlike other e-marketplaces, Meesho lets its users share and advertise their listings through social media so that more and more followers can come and help increase sales.
Instagram is one such social media that works best for advertising products and gaining new customers as it not only serves as a social media but, is also used as a marketplace by millions of users. Signing up for an Instagram business profile is free and you may do it by just changing the settings from private account to business account.
The most important thing to grow your business is not just posting beautiful advertisements of the products or sharing listings with everyone. In the case of Instagram, it is very important to analyze your audience base and how to turn them into consumers. The first thing you would want to do is to identify your target audience, for example, if you are selling women's clothing your audience will mainly consist of female users and you will have to create posts that will attract those female users.
Another thing to keep in mind is that to understand the needs and likings of your customer you first need to understand your rival businesses. Before starting to explore different social media to advertise your products it is recommended to research and learn about the trending posts that your rivals are using to gain buyers. Knowing the trending topics, you can easily be able to get visibility with your own creative advertisements. But do not just copy and paste their content with your products, try to be unique and creative in your own way so that the viewers can easily differentiate your brand from others.
Finally, you can start posting your advertisements with shoppable links through merchandise IDs that connect with your Meesho account. This way, if your viewers like an item and want to buy it they can visit your shop directly by clicking on the link. To tag your products from the posts to Meesho listings, you can edit the stories while posting them. You can also add the product details and link them in the captions. Instagram is not a place to only post high-quality banners and new launches that might bore your viewers, so you can also use it to communicate with your followers by creating regular posts such as behind-the-scenes of your shop or product reviews. Therefore, mainly an average ratio of advertising posts and regular posts to keep your audiences entertained all along.
How To Create High Quality Product Advertisements For Instagram
To create attractive product advertisements, Blend Photo Editor is the best friend for merchants. Not only can you edit your product photos with it, but also Blend's editable templates make it easier to produce banners in bulk.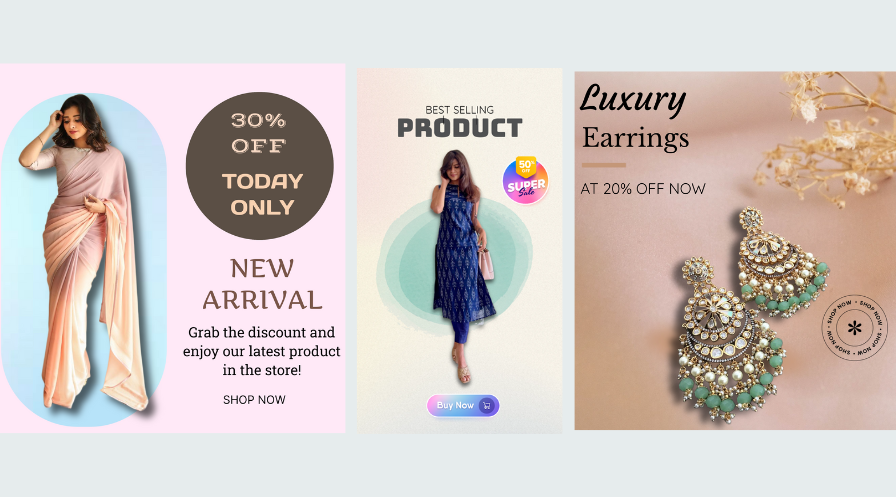 Download Blend from Google Play Store or Apple's App Store and log in with your email Id to get started.
Upload your HD product photos to the app and its advanced AI technology will automatically create a pixel-perfect cutout every time. You can either download the cutout if necessary or click on it to edit more.
Choose your favorite advertisement template from across a wide range of categories and place your cutout as you see fit.
Edit details such as offers or deals and social media Ids on the template to get more followers. Don't forget to add a brand logo too.
Save and post on Meesho Community to boost profit.
Visit Blend Seller Academy to learn more about the tips and tricks to boost sales on E-commerce.